High-waisted jeans are one of the trendiest designs that are not going anywhere – and that's a blessing since high waist tend to be globally flattering. It does not really make any difference if you are petite, tall, curvy or lanky they elongate your legs and make the best out of all your assets.
How to shop for the best high-waisted jeans
1.For Petite Women
It is important to understand a certain style for a particular body frame. The traditional high-rise jeans may be too high for you when it comes to a petite woman. It is better to try for a mid-rise which seems to be high-waisted on petite proportions.
2.Woman with curvy body type and wider hips
Body proportions play an important role when it comes to the woman with a bigger hip proportion. They should definitely opt for jeans that can easily stretch and hold everything in place without buckling. Jeans that can cinch at the waist area and sit at the belly button comfortably.
3.Woman with bigger thighs
Athletic thighs, yes if you have one of those, then it's pretty frustrating sometimes to find a pair that can comfortably fit with your quads and cinch perfectly at your waist. Look for a contoured waistband and a good amount of stretch will play the part, another option is to alter through the waist, and it will just do fine.
4.Tall woman and for lanky one's
Ignite a flare and look for silhouettes, as in to create a curve so natural that compliments your body.
Boot cuts the wider, the better is one of the best options for the tall ladies.
Now let these high-waisted jeans hug at the right places, from some given options.
The skinny ankle hugging jeans are perfect and making them look good for a woman with smaller body proportions. Jeans for all petite woman, creating lengthy lines, that makes your leg elongated and appear taller.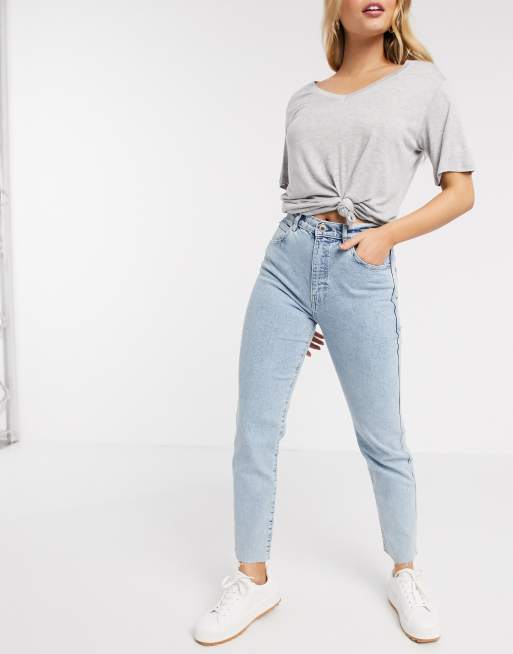 Shout-out to all cool moms out there! It's very fascinating with the purpose it serves with this design. The cutouts and pair of high-risers are super soft and comfortable, even with all your daily chores.
Sometimes buttons replace the zipper and the pockets that perfectly fit your frame and creates an appearance of a tighter waistline, what else you can ask for. They perfectly hold up without making you any more uncomfortable.
The jeans feel comfortable and fitted. These stretchy jeans are one you should go for a ride. As many have found it difficult to get a perfect fit because of the beautiful curves and athletic thighs, but there are options that will perfectly fit even with a shorter body frame. The curvy fit makes it hugged tight and leaves no gap for air too. These are perfect!
There was a time when few of you must have thought of not wearing these high-riser jeans, well it seems the time and trend has changed obviously and now high-waisted jeans are the fashion trendsetters in the most comfortable ways.