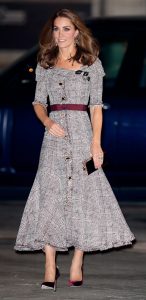 Last night, Kate Middleton made his third public appearance after taking maternity leave at London's iconic Victoria and Albert Museum, serving as the Duchess of Cambridge.
As a patron of the museum, the 37-year-old man was awarded the honor of opening a new photography center for his love of art and taking pictures (remember the lovely short films of Prince Louis?)
To this end, Kate wore an Erman strapless embellished bouclé-tweed midi dress from Erman with a burgundy belt.
Considering the shoulder detail of the Duchess of Carolina Herrera in Sussex's pink tones in the "Saber Color" earlier this year, it can also be freed from the wardrobe of her nephew Meghan Markle.
Middleton is paired with a pair of 290-pound Erdem ring earrings and a pair of Bordeaux velvet Jimmy Choo Romy heels for £650.
Erdem has long been a favorite British designer of the royal family. Middleton chose to wear the brand during several overseas trips last year, and Princess Eugenie, who wore a flower with a fashion house pleated skirt in her engagement photo. skirt.
However, it seems that Kate's latest Erdem looks inspired by the Queen.
PEOPLE reported that Kate's dress was inspired by the SS18 series from the 1958 meeting with the American jazz pianist Duke Ellington.
"Her father (King George VI) likes his music very much. When they meet, he is very obsessed with her. He wrote a piece of music called "Queen's Suite"," designer Erdem Moralioglu said after London. According to the "Daily Telegraph" report, last year's fashion week show.
He added: "Think about Cotton Club, Harlem, Dorothy Dandridge, Ella Fitzgerald and Billy Holiday." "What if she goes to New York, if Dorothy Dandridge What about the last trip to Buckingham Palace?"
According to reports, under the direction of Caroline de Guitaut, the senior curator of the Royal Collection Art Deco, Erdem studied the Queen's clothes in the Windsor caste and found inspiration for his design.
Take a quick look at the Erdem collection and you'll see a series of redesigned floral dresses, brocade jackets, ribbons and ruffles.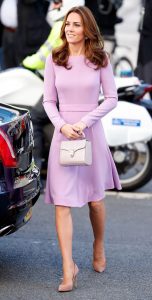 In the evening, Middleton visited V&A's first exhibition, "Collecting Photography: From Silver to Digital", which was an exploration of photography from the 19th century to the present, drawing inspiration from more than 800,000 photos in the center.
Kate met with several curators who participated in the project and later announced a plaque to commemorate the official opening of the center. The museum space in the new center will more than double.
In the morning, Kate joined her husband, Prince William, at the first Global Ministerial Mental Health Summit – an initiative to improve mental health around the world.
The mother of three children wore an amazing lilac dress, and any Emilie Wickstead participated in the event, which she recovered from the royal tour of Berlin and Hamburg in 2017.