When crop tops first made their return to the fashion world a few seasons back, it seemed like they were just another trend that won't last. Thoughts about this trend were divided, and many women thought that this trend is not easy to wear. But lately more and more women started embracing this trend. The market offers so many different options when it comes to crop tops so every women can find a perfect style and design for herself.
A style that is especially popular this season is a crop top with square neckline. This kind of top flatters collarbones and neck and it's a cool way to draw attention to your everyday layered necklaces. There are tons of styles to choose from, from basic and sporty to elegant and refined, with long sleeves, short sleeves, puff sleeves, etc, in different colors, patterns and fabrics. They're chic, and there's so many options how to wear them.
The key to pulling it off is more about how you style it than the actual piece itself. Still not sure how to wear this trend? No worries, here are some tips and styling ideas.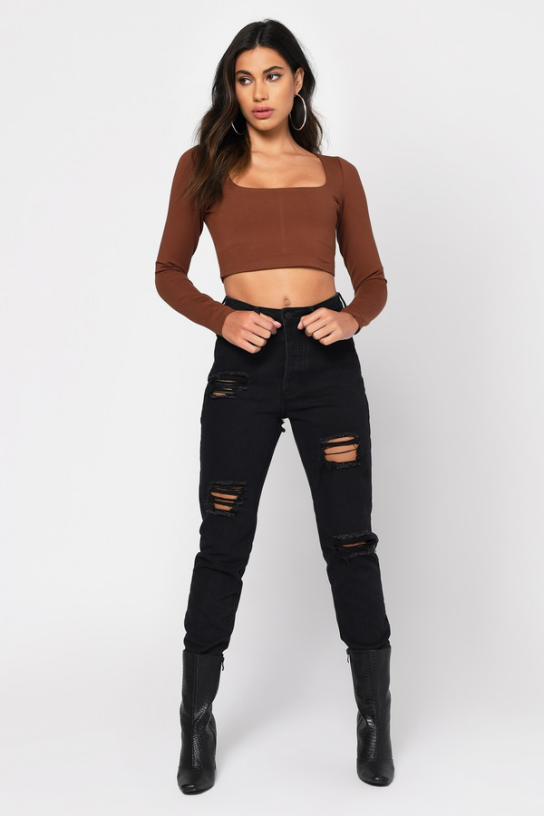 LAYER IT
When a crop top is layered with the right partner pieces, you won't have to worry about baring skin. You can wear it under a blazer. It's a great way to layer while still keeping your cool. Oversized and loose-cut styles blazers are very popular these days and they look good paired with square neck crop tops. For the most daring styling try layering a crop top over your look. Add a crop on top of your favorite dress, blouse or shirt. A fitted dress or a slip dress are perfect for layering up. A crop top will create the illusion of a two-part outfit.
WITH ALL THINGS HIGH WAISTED
High waisted denim and trousers continue to dominate and cropped tops are a nice way to style them without showing to much skin. Pair a top with a square neckline with your favorite high-waisted mom jeans or flair jeans to channel a bit of 70s boho. Crop tops go well with culottes as well. For a touch of Scandinavian minimalism you can wear some simpler styles with high-waisted tailored trousers. Crop tops also look good paired with fitted high-waisted pencil skirts.
COVER IT UP
If you have a little space you need to cover, simply tie around a jean jacket, or add a belt bag! This combo can pretty much take you anywhere. If it gets colder you can dress your jacket.